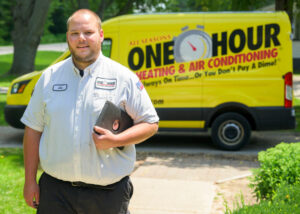 Get the Right Furnace for Your Richmond Home from One Hour Air Conditioning & Heating
Choosing the right replacement furnace means getting one that fits your home's unique needs. In all the years we've performed Richmond furnace installation, we've never seen two homes alike. That's why we take time to assess the specifics of keeping your home warm and safe.
You Want Heat? We Have Options:
Furnaces
Heat Pumps
Boilers
Do I Need a Furnace Replacement? Insights from Five Star One Hour Heating & Air
Deciding to replace your furnace can be daunting, especially considering the costs and the inconvenience of installation. However, there are telltale signs that your furnace is nearing the end of its useful life or isn't operating at peak efficiency. If your furnace has been frequently breaking down, leading to escalating repair costs, or if it's over 15 to 20 years old, it may be time to consider a replacement.
Common Signs You Need a Furnace Replacement in Richmond, VA
As the seasons change in Richmond, VA, many homeowners rely on their furnaces to provide comfort throughout the colder months. Ensuring your furnace is in top condition is crucial for efficiency and safety. But how do you know when to consider a furnace installation over a simple repair? Five Star One Hour Heating & Air has compiled a list of signs to help homeowners make informed decisions.
Age of Your Furnace: The average lifespan of a furnace is between 15 to 20 years. If yours is approaching or has surpassed this range, it's time to consider a new furnace installation.
Rising Energy Bills: A significant increase in your energy bills without a corresponding spike in usage can be a sign that your furnace is losing efficiency.
Frequent Repairs: If you find yourself regularly calling for furnace repairs, it might be more cost-effective to replace it entirely.
Uneven Heating: Cold spots in some rooms or uneven heating throughout your home can indicate a malfunctioning furnace.
Strange Noises: Rattling, humming, or banging noises can signify that your furnace is nearing the end of its life.
Excessive Dust and Poor Air Quality: Older furnaces may not filter the air as effectively, leading to more dust, allergens, and pollutants circulating in your home.
Visible Signs of Rust or Cracks: If you notice rust on the exterior or cracks in the furnace components, it might be time for a replacement.
Frequent Cycling: If your furnace frequently turns on and off or cycles between heating modes, this can indicate a need for a furnace installation.
While repairs can often extend the life of your furnace, there comes a point when replacement is the most economical and efficient solution. Trust the expertise of Five Star One Hour Heating & Air to guide you through the process and ensure your home stays warm and comfortable. Learn about the importance of furnace maintenance post installation and replacement.
Efficient Furnace Installation Is Our Family Tradition
Naturally, you want the most efficient heating system in your home. We believe the installation itself should be efficient too. We start by thoroughly evaluating your home's heating specifics and your budget. Then, we'll present you with options, so you're free to choose which is best for you.
Next, we'll arrive on installation day ready to get in, get it done, and get out—cleaning up like we were never there. But not before making sure your system gets installed to precise manufacturer specs, connected to ductwork capable of delivering that heat into every room of your home. That's why so many Richmond families recommend Five Star One Hour.
Five Star One Hour Keeps Your Home Toasty Warm
Every one of us at Five Star One Hour Air Conditioning & Heating strives to deliver furnace services that would make our own families proud. We're not done till you're delighted. That's why we're responsive, respectful, and clean up like we were never there. Every one of our Five Star heating and air technicians are skilled, trained, and licensed. That's how we can back our work with a 100% satisfaction guarantee.
We believe chilly weather belongs outside your home. So we won't keep you waiting: When we make appointments, we keep them. We'll even call before arriving so you don't wind up waiting around all day. After all, it's not just a Furnace installation. It's the start of a relationship.
Why Five Star One Hour Heating & Air is the Best Choice for Furnace Installation in Richmond, VA
When it comes to furnace installation in Richmond, there are several options available for homeowners. However, choosing the right HVAC service can make all the difference in ensuring a smooth process, long-term performance, and peace of mind.
Five Star One Hour Heating & Air stands out as the premier choice for several reasons:
Expertise & Experience: With years of service in Richmond, Five Star One Hour Heating & Air has a team of highly trained technicians who understand the unique heating needs of the region, ensuring a seamless furnace installation process tailored to your home.
Timely Service: Our name, "One Hour," isn't just a catchy phrase. We pride ourselves on prompt and efficient service, ensuring your furnace installation is timely.
Quality Workmanship: Our installations are meticulous, ensuring optimal performance and longevity of your heating system. Every detail matters to us.
Transparent Pricing: No hidden fees, no unexpected charges. We provide transparent and upfront pricing, ensuring our clients know what they're paying.
Cutting-Edge Technology: We stay updated with the latest heating technology, ensuring our clients receive the most efficient and advanced furnace systems.
Comprehensive Aftercare: Beyond installation, we offer maintenance packages and services to ensure your furnace runs optimally for years to come. Your long-term comfort is our priority.
Trustworthy Reviews: Our reputation speaks for itself. With countless positive testimonials and recommendations, the Richmond community trusts us for their furnace installation needs.
Customer-Centric Approach: You're not just another customer at Five Star One Hour Heating & Air. We prioritize your comfort, needs, and concerns, ensuring a personalized service experience.
In Richmond, where heating needs are diverse and essential, homeowners deserve the best service when it comes to furnace installation. By choosing Five Star One Hour Heating & Air, you're not just getting a furnace but investing in a long-term partnership dedicated to your home's comfort. If you have questions about installing a furnace, learn more here.