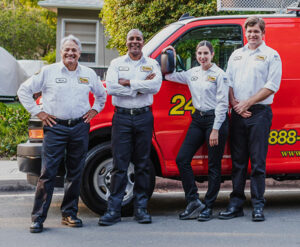 Circuit Repair, Installation & Replacement
Richmond Electrical Circuit Repair That's Five Star Worthy
An electrical circuit is designed to handle a set amount of electricity. Put too much demand on one and you'll have problems such as overheating wires which can lead to an electrical fire. If you suspect a circuit is in need of repair, contact Five Star Mister Sparky Electrical immediately.
Schedule Electrical Circuit Repair
How can you tell if a circuit is overloaded?
Circuit breakers frequently trip
Burning smell or buzzing sound from outlets
Discolored and/or warm wall plates
Dimming, buzzing, or flickering lights
Mild electrical shock from switches, outlets or appliances
Five Star Mister Sparky Electrical follows the National Electrical Code when performing circuit installations and replacements because it helps avoid overloads and other problems. We care about your safety and everyone in your home or business. That's why we take care to keep our professional electricians updated on industry standards and building codes. It's also how we earn so many Five Star awards for our work.
Could A Dedicated Circuit Be The Answer?
Dedicated electrical circuits are specially designed to handle a single appliance or fixture. If you have appliances or equipment that trip breakers, a dedicated circuit for larger more demanding appliances may be the answer. Five Star Mister Sparky can review your wiring to determine if a dedicate circuit is the right solution for you.
Dedicated circuits can be installed for:
HVAC systems
Lighting
Refrigerators/freezers
Ovens
Hot water heaters
Microwaves
Garbage disposals
Garage equipment
Generators
Pools
Hot tubs
Spas
Outdoor cooking areas
Car charging stations
Security gates
Be on the Safe Side: Call a Richmond Electrician
At Five Star Mister Sparky Electrical, we put your safety first. Depend on us to handle your commercial and residential electrical needs, including proper electrical wiring. Our Five Star electricians ensure a job is done right the first time.