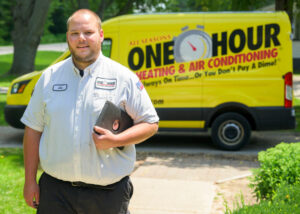 Get the Right Heater for Your Richmond Home from One Hour Air Conditioning & Heating
Choosing the right replacement heater means getting one that fits your home's unique needs. In all the years we've performed Richmond heater installation, we've never seen two homes alike. That's why we take time to assess the specifics of keeping your home warm and safe.
You Want Heat? We Have Options:
Furnaces
Heat Pumps
Boilers
Efficient Heater Installation Is Our Family Tradition
Naturally, you want the most efficient heating system in your home. We believe the installation itself should be efficient too. We start by thoroughly evaluating your home's heating specifics and your budget. Then, we'll present you with options, so you're free to choose which is best for you.
Next, we'll arrive on installation day ready to get in, get it done, and get out—cleaning up like we were never there. But not before making sure your system gets installed to precise manufacturer specs, connected to ductwork capable of delivering that heat into every room of your home. That's why so many Richmond families recommend Five Star One Hour.
Five Star One Hour Keeps Your Home Toasty Warm
Every one of us at Five Star One Hour Air Conditioning & Heating strives to deliver heating service that would make our own families proud. We're not done till you're delighted. That's why we're responsive, respectful, and clean up like we were never there. Every one of our Five Star heating and air technicians are skilled, trained, and licensed. That's how we can back our work with a 100% satisfaction guarantee.
We believe chilly weather belongs outside your home. So we won't keep you waiting: When we make appointments, we keep them. We'll even call before arriving so you don't wind up waiting around all day. After all, it's not just a heater installation. It's the start of a relationship.