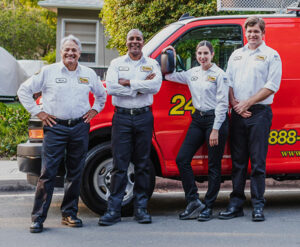 Mister Sparky Richmond Electrical Repairs
You probably take electricity for granted. We want to keep it that way with residential electric repairs you can depend on here in Richmond. Whether it's a simple switch, outlet issue, or a complete panel replacement, Five Star Mister Sparky Electricians brings two generations of professional experience and personal attention to every detail of everything we do.
3 Ways Why Mister Sparky Matters To You
Our first job isn't electrical repairs. It's earning your trust. That means:
• Five Star electricians are thoroughly trained, background checked, and insured.
• We only use the same components in your home that we'd allow in ours.
• We arrive when promised and get right to work, doing only the needed work at a price you agree to upfront.
What all that means to you is that Five Star get it right the first time and stands behind our work—Guaranteed. That goes for Mister Sparky, One Hour Heating & Air, or Benjamin Franklin Plumbing.
Common Electrical Problems in Richmond, VA
With its splendid mix of historic and contemporary homes, Richmond has witnessed its fair share of electrical challenges. While the allure of older homes is undeniable, they often come with unique electrical issues, alongside the typical problems even newer homes might face. The Five Star Mister Sparky team has addressed many such concerns, reinforcing the importance of professional electrical repairs to ensure safety and efficiency. Here, we outline the most common electrical problems encountered in Richmond residences.
Outdated Wiring Systems: Many historic homes in Richmond still possess the original knob-and-tube wiring, which needs to be equipped to handle the electrical load of today's appliances and can pose fire hazards.
Frequent Circuit Breaker Trips: A circuit breaker that continually trips can indicate an overloaded circuit or potential issues within the circuit breaker itself.
Dimming or Flickering Lights: This can be due to fluctuations in voltage, issues with the wiring, or even problems with the home's main electrical panel.
Faulty Outlets: Outlets that don't provide power, get unusually warm, or show signs of scorching should be addressed immediately to prevent electrical fires.
Persistent Electrical Surges: Often caused by outdated wiring, poor electrical installation, or faulty appliances, electrical surges can damage and decrease their lifespan.
Aluminum Wiring: Used in homes built during the 1960s and 1970s, aluminum wiring can oxidize and rust when in contact with certain metals, increasing the risk of fires.
Overloaded Power Strips: A frequent sight in old and modern homes, daisy-chaining power strips can overload circuits and lead to fires.
Electrical Shocks: Typically, due to outdated or faulty wiring or poor installation of appliances, these can range from mild jolts to severe shocks.
Buzzing Noises from Outlets or Switches: Such noises can signal a loose connection or a potential problem with the fixture or wiring.
Improperly Wired Switches: Often, due to DIY electrical projects gone wrong, improperly wired switches can be both an inconvenience and a hazard.
Addressing these issues is crucial. While some signs might seem trivial, they can indicate larger, lurking problems. For peace of mind and the safety of your home and family, always trust professionals like Five Star Mister Sparky for your electrical repairs in Richmond, VA.
Five Star Mister Sparky Electrical Services
It's not bragging if it's a fact. And, fact is, there's no project too difficult or complex for our electricians to handle to your total satisfaction. That includes:
• Electrical Repairs
• Rewiring
• Panel Replacement
• Ceiling Fan Installation
• Light Fixture Installation
• Pool & Hot Tub Wiring
• Whole Home Generator Installation & Service
• And more
Five Star offers these Mister Sparky electrical services in Richmond. We are here for you every hour of every day because you never know when the need for electrical services will strike.
Benefits of Electrical Repairs in Richmond, VA
Richmond's homes, with their perfect blend of historic charm and modern conveniences, require timely and expert electrical care. Electrical repairs not only ensure the optimal functioning of your home's electrical system but also protect its inhabitants. Five Star Mister Sparky, with its unwavering commitment to quality and safety, offers a range of electrical repair services that Richmond homeowners can trust.
Safety First: One of the paramount benefits of professional electrical repairs is the guarantee of safety. With Five Star Mister Sparky's expertise, risks of electrical fires, shocks, and other hazards are significantly reduced.
Enhanced Energy Efficiency: Electrical repairs can identify and rectify inefficiencies in your electrical system, leading to reduced energy consumption and decreased utility bills.
Extended Appliance Lifespan: Electrical issues can strain appliances, reducing their efficiency and lifespan. Timely repairs ensure that appliances operate optimally, extending their utility and life.
Boosted Home Value: A well-maintained electrical system is a strong selling point for homeowners. Electrical repairs can augment the value of your property, making it more attractive to prospective buyers.
Peace of Mind: With professional electrical repairs, homeowners can rest easy knowing their electrical system is in top shape, devoid of lurking issues or hazards.
Modernization: As technology evolves, homes require electrical systems that can accommodate newer, more advanced appliances and gadgets. Electrical repairs can pave the way for these updates, ensuring your home stays current.
Cost Savings: While there's an upfront cost for electrical repairs, in the long run, they can save homeowners a significant amount. This is through the prevention of major electrical failures or replacements, and reduced energy bills.
Local Compliance: Richmond, VA, has specific electrical codes and standards that residences must adhere to. Five Star Mister Sparky ensures that all electrical repairs align with these local requirements, ensuring legal compliance.
Environmental Responsibility: By ensuring that your home's electrical system is efficient and updated, you're also reducing its carbon footprint. This contributes positively to environmental sustainability.
Personalized Solutions: Every home is unique, and so are its electrical needs. Five Star Mister Sparky offers tailored solutions to meet individual homeowner requirements, ensuring satisfaction with every repair.
Electrical repairs are an investment in the safety, efficiency, and modernization of your home. With the myriad benefits they offer, it's essential to entrust these repairs to professionals. For reliable and quality electrical repairs in Richmond, VA, homeowners know they can count on Five Star Mister Sparky.
Mister Sparky Helps You Take Electric For Granted
The best way to prevent a problem is beat it to the punch. That's why Five Star recommends periodic Mister Sparky electrical inspections. We help make sure your entire electrical system is working safely. This helps us catch potential problems before they become expensive issues.
Choosing Five Star Mister Sparky for Electrical Repairs in Richmond, VA
Homeowners need a trusted and reliable partner for electrical repairs in Richmond, VA. Five Star Mister Sparky has built a reputation for offering top-tier electrical services, ensuring every Richmond residence's utmost safety and efficiency. With a rich history of satisfied customers and many electrical solutions, here are the compelling reasons to choose Five Star Mister Sparky for all your electrical repair needs.
Experienced Professionals: Our team comprises licensed electricians with years of experience under their belts. They bring their expertise, ensuring each electrical repair is done precisely.
Prompt Service: We understand that electrical issues can't wait. With Five Star Mister Sparky, you're guaranteed timely responses and quick resolutions, minimizing disruptions to your daily life.
Safety Commitment: Electrical repairs can be hazardous if not done correctly. Our top priority is the safety of your home and its inhabitants. We adhere to stringent safety protocols and use state-of-the-art equipment to ensure every job is executed safely.
Transparent Pricing: With Five Star Mister Sparky, there are no hidden charges or last-minute add-ons. We maintain transparency in our pricing, giving homeowners peace of mind knowing they're getting value for their money.
Quality Workmanship: Our commitment to excellence ensures that every electrical repair is of the highest quality. We use premium materials and the latest techniques, ensuring our repairs stand the test of time.
Local Expertise: Being locally operated, we have an in-depth understanding of Richmond's electrical standards and codes. This local expertise ensures all our repairs meet regional requirements.
Personalized Solutions: Every home and its electrical needs are unique. We offer tailored electrical solutions, ensuring the specific requirements of each residence are met to the fullest.
Customer-Centric Approach: At Five Star Mister Sparky, our customers are at the heart of everything we do. From understanding your concerns to providing post-repair support, we ensure a seamless and satisfactory experience.
Warranty-backed Services: Our confidence in our work is reflected in our warranty provisions. A warranty backs every repair we undertake, giving homeowners added assurance of our quality.
In a world filled with electrical service providers, Five Star Mister Sparky stands out as the trusted partner for homeowners in Richmond, VA. Our unwavering commitment to excellence and expertise make us the go-to choice for all Electrical Repairs in the region. Choose us, and experience the Five Star difference!