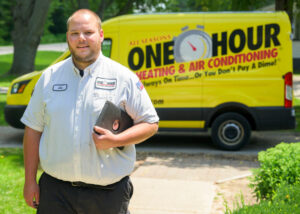 Our Rejvenation air conditioning tune-up so good your system will thank you.
Our Rejuvenation is an AC Maintenance tune-up that includes the deep cleaning and maintenance the other guys skip. Five Star Richmond Air conditioning maintenance cleans your condenser coils from the inside. That's because the right way is the Five Star way to get it done. We also oil, recalibrate, and safety check every moving part and electrical component on your system, returning every component to factory-fresh specifications. So your system thanks you by running more efficiently, saving you money, and lasting longer.
What's included in the AC maintenance in Richmond, VA.
Deep System Cleaning
Condenser Coil Cleaning (from the inside)
Oil, Recalibrate Every Moving Part
Monitor voltage and amperage draw on all motors
Check and tighten all loose electrical connections
Restore Systems To Factory-Fresh Specifications
Five Star Air Conditioning Tune-Ups Save You Money
Air conditioning maintenance and AC services saves you money. That's because our techs find minor problems that can be quickly fixed before they become major issues. Say we found a refrigerant leak. We can often repair it affordably if found early. Leaks left undetected could burn up your compressor, costing you thousands in repairs while also running up your electric bill.
Efficiency Goes Up, and Energy Bills Go Down
Every time an Five Star One Hour Air Conditioning technician opens your system, saving you money is our goal. Annual maintenance is more critical today. Just as cars have become more technologically complex, today's AC systems include a complex mix of computerized controls. Like cars, the government-mandated AC systems be more efficient as measured by SEER—seasonal energy efficiency ratio. The higher the SEER rating, the more efficient your system—and the more crucial its annual service.
We Got Your Back, And That's Cool
Five Star One Hour Rejuvenation Air Conditioning Tune-Ups are so good, we back them for the whole season. If your system doesn't continue cooling all Summer, we'll come back for free. That's because doing it right is our family tradition at Five Star One Hour Air Conditioning. That explains why so many Richmond homeowners trust us tune-up after tune-up, year after year.