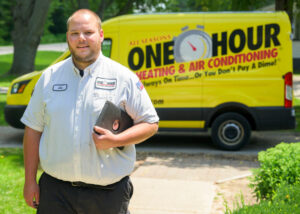 Trust Five Star To Find the Right AC System To Last
We believe an air conditioner installation is the beginning of a relationship. That's how we've done it for two generations. That's because an air conditioner can work for well over a decade with annual maintenance. That makes choosing the right system a critical decision you'll live with for years to come. 5 Star One Hour Heating & Air Conditioning techs are here to help now.
Is the most important day in your AC System's life really its installation day? We believe that's second only to the day it's designed. Keep reading to learn how we walk our talk in designing and installing your system to last.
Richmond AC Installation: Efficiency Matters
Since every home is unique, we take the time to evaluate yours carefully. The size of your home, your budget, and your usage needs are just a few factors that help us develop your air conditioning options. AC technology has come a long way since we began three generations ago. Today's air conditioners are more energy-efficient than older ones, so installing a new unit is a smart choice for your energy bill!
Five Star One Hour AC Installation services include:
• Central air conditioner installation
• Ductless split system installation
We Install Your AC System To Last
Getting installation right determines how well and how long your new AC system will perform. That's why we take the time needed to ensure every component—including your ductwork—is appropriately configured and installed for optimal performance and efficiency. You'll feel the difference in every room of your house.
Five Star One Hour Kicks Heat from Your Home
At Five Star One Hour Air Conditioning & Heating, we strive to deliver air conditioning services that stands the test of time. Our team wants you to be happy with our work, so we're responsive, respectful, and clean up like we were never there. Every one of our Five Star HVAC technicians are skilled, trained, and licensed. That's how we can back our work with a 100% satisfaction guarantee.
No one wants to bake in the heat waiting for AC relief. When we make appointments, we keep them. We'll even call before arriving so you're not left waiting around all day. After all, it's not just an AC install. It's the start of a relationship.