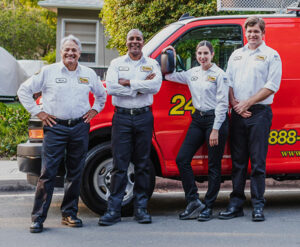 Emergency Electrical Repairs for Richmond Residents
Electrical problems are the cause of one-third of structure fires every year. That's why we recommend contacting All Star Mister Sparky when you suspect an electrical issue. Our professional electricians are ready to help around the clock whenever you experience an electrical emergency.
Call NOW If You Suspect An Electrical Emergency: (804) 376-5682
What's Considered An Electrical Emergency?
In all honesty, that's a tricky one. Sometimes, what seems a nuisance is a bigger problem lurking in the walls of your home. That's a good time to know you're not alone. We're a phone call or click away if you experience any of these electrical emergencies:
An Electrical Fire: If you're experiencing an electrical fire, call 911 first. Once the fire's extinguished we're ready to come inspect and diagnose the source before performing repairs.
Unidentified Burning Smell: The odor of plastic burning may indicate an electrical emergency. Does the smell linger or come and go? Are smoke detectors being set off? Check appliances, all your outlets, ducts, and your breaker box to see if you can find the source. Then, call us.
A Buzzing or Humming Sound in Your Breaker Box: If the noise is getting louder, it may signal a circuit breaker is overloaded. An overload heats the circuit wiring and can cause a fire hazard.
Circuit Breaker Keeps Tripping: That could mean a breaker is going bad or is overloaded. It could also be a ground fault issue. Tripping breakers are a good reason to call us immediately.
Persistent Flickering Lights: When lights repeatedly flicker it can signal a more substantial problem such as a circuit overload, excess voltage, or loose wiring. These are dangerous and should get inspected immediately.
Electrical Shocks: Shocks are a warning. They can be caused by Two-prong outlets lacking the safety of a ground. Loose screws in outlets or switches can also cause shocks. Getting shocks? Contact us now.
Smoke From An Outlet: Debris in an outlet can cause arcing which generates heat, smoke, and ultimately fire. Smoke can also be caused by overloading an outlet. See smoke? Turn off the breaker. Call us.
Loss of Power: Should your power go out, check if others in the neighborhood are without power too. If it's just your home, it's likely your breaker box requires immediate attention. Call us for a diagnosis.
Wet Electrical Panel: Water and electricity don't mix. If there's water in your electrical panel, contact us immediately. Older panels sometimes develop leaks which lead to corrosion which can lead to a fire hazard.
Electricians Available for All Electrical Emergencies.
When dealing with an electrical emergency, there's no time to waste—that's why Five Star Mister Sparky is ready to help you around the clock, every day. Our qualified electricians provide fast, safe, and effective repairs when needed.
Not only do we guarantee to arrive when promised, we back our electrical repairs with our UWIN Guarantee—a 100% customer satisfaction guarantee that backs our labor, parts, and craftsmanship for two years from the date of service.
Keep your home and family safe. Get the electrical emergencies services in Richmond you need now. We're here when you need us.