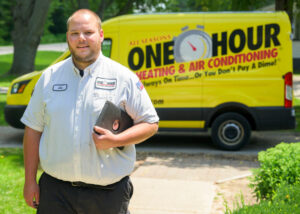 Richmond Ductless Mini-Split Air Conditioners
Get Five Star comfort where needed with a Ductless Mini-Split Air Conditioner
Ductless ac mini-split air conditioners cool a single space rather than your whole home. They are small but mighty. That means they can enhance your home's comfort by cooling areas not effectively managed by your existing central air system.
Ductless Air Conditioners Deliver Big Benefits To Richmond Homes
High efficiency
Versatile design
Easy installation
Cost-effective
I Want A Ductless Mini-Split Air Conditioner
What Is A Ductless Mini-Split Air Conditioner?
Ductless systems are comprised of two components: an indoor evaporator mounted to a wall or ceiling and an outdoor condenser unit. The two are tethered together with a single umbilical without any need for ductwork.
The Advantages of Ductless AC Mini-Split Systems
Comfort Where You Want It: Take control of temperatures for different rooms. That means you can cool the kitchen while keeping the living room warmer. Or, even turn off cooling in unused rooms.
Money Saving Systems: Rather than installing ducts and returns on your existing system, Five Star One Hour can install a ductless unit in rooms without ducts to correct hot or cold spots. Because of their simple installation, ductless systems are cost-effective even before you turn them on.
High Efficiency: Ductless systems have efficiencies of up to 23 SEER. That means they can quickly and effectively cool a space.
Wireless Comfort Control: Ductless systems feature a wireless remote control that puts comfort at your fingertips.
Five Star One Hour Delivers Cooling Where You Need It
Ductless mini-split air conditioning systems are ideal for adding extra cooling where needed. That includes room additions, homes without ductwork, or attics or workshops. That's our goal when our Five Star One Hour Heating and Air Conditioning technicians install these units.
Schedule My Ductless Mini-Split AC Installation
Fast, Efficient Ductless Mini Split AC Installation
Ductless AC systems save money from the start because installation only requires a small hole in an exterior wall through which the two components are connected. While Five Star Heating and Air Conditioning can install your Ductless Mini Split Air Conditioning in less than one day, that doesn't mean we rush the process. We take the time to ensure your ductless mini-split air conditioner is installed to give you years of trouble-free comfort.
Enjoy Five Star Ductless Remote Control Comfort
Five Star One Hour Heating and Air Conditioning installs state-of-the-art Ductless ac systems, which include a remote control. That means you can change the temperature with a remote and turn it off when leaving the room to save on energy bills. We even offer Ductless ac systems you can control with an app from your smartphone.