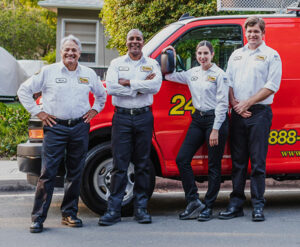 Richmond Generator Repair & Installation
Five Star Richmond, VA Generator Repair
We're no strangers to terrible weather in Richmond. While these storms can bring power outages, the most common source of lost power is wind and stress to the power grid. Regardless of the cause, it's best to be prepared with a professionally installed standby generator. That's why Five Star Mister Sparky Electrical offers reliable generator installation and repair in Richmond.
Professional Richmond, VA Generator Repair Services
Trust Five Star Mister Sparky Electrical for professional generator repair services like maintenance and repair services. Why does that matter? A third of all standby generators will fail to start when needed due to a lack of maintenance. Should you detect issues with your generator, schedule Five Star Mister Sparky Electrical service. You got a generator to keep your family or business safe. Make sure it's ready to go.
Schedule Generator Service or Repairs
Five Star Generator Installation in Richmond
Standby generators restore power in seconds when their transfer switch detects an interruption in your electric service. Because generators come in various sizes, we first conduct a site survey. We inventory your specific energy demand, varying from home or business to the next. An undersized generator won't meet your demand. An oversized one is a needless expense. We ensure you get one that's a perfect fit for your needs and budget.
Installing a home generator involves permitting, approvals, and coordination with your natural gas or propane provider. Our Richmond generator installation team handles all the details efficiently and professionally—that's how we earn so many Five Star reviews.
Five Star Mister Sparky Generator Installations Include:
All required operating permits
Property protection guarantee
One-year full guarantee
No-Lemon Guarantee
One-year full-house electrical maintenance
Consider These Factors When Choosing A Generator
Location: Generators need space to operate safely. We'll help you choose a safe and best-suited location for operational efficiency.
Fuel: Propane and natural gas are the most popular options determined by which is most readily available.
Air or Liquid Cooled: Smaller generators are air-cooled like a motorcycle engine and run at higher RPMs. Larger liquid-cooled units have a radiator like your car and operate more quietly.
Coverage: Do you want whole-home coverage? Or Load-shedding where designated circuits take priority?
Five Star Generator Maintenance Is Crucial
When the lights go out, you want to be sure your generator will come on. Many generators have built-in self-testing processes and will run weekly to make sure they are prepared when the time comes that your electricity fails.
Just like your heating and cooling system, a generator requires periodic maintenance so it can last for 20 to 30 years and possibly longer. That's why Five Star Mister Sparky Electrical recommends twice-annual maintenance to check for any potential issues. We also recommend an extended maintenance plan for optimal peace of mind.